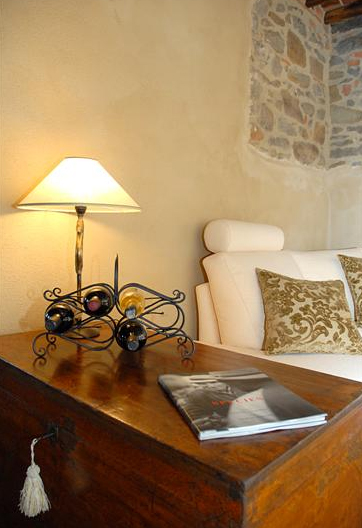 The residence

La Paterna di Rigomagno is a residence of elegant but informal charm, which, while preserving the original structure, has been skillfully renovated and equipped with all the modern comforts.
It is the ideal location for those who wish to discover the real Tuscany, away from the usual tourist circuit, and for those who love to wander through streets and alleys that are lined with flowers, to fish, to relax in hot thermal baths: le terme di san giovanni e le terme antica querciolaia or to explore, on foot or by bicycle, hidden roads and pathways that will take them through breathtaking countryside.
Everything about the residence has been well thought out and arranged in order to make the guest feel at home. Minute attention has been paid to every detail, making a stay at Rigomagno unique and unforgettable.
The residence has three levels: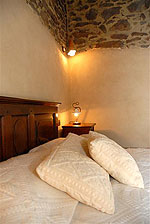 - From the antique entrance door one goes up to the second floor sitting room where the old sandstone fireplace is located. Here the guest can relax and read or watch satellite television.
- The bedroom is located on the third floor. The furniture is an harmonious blend of handmade, folk-art pieces. The handmade, king-size bed is in walnut.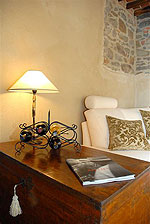 - The floors of the second and third levels are beveled oak parquet, brushed and oiled.
- The bathroom is decorated in chestnut and Rapolano travertine. It's furnished with a spacious shower and beautiful, matching taps and fittings. The bathroom ceiling also has the original, exposed, fired brick with oak and chestnut beams.